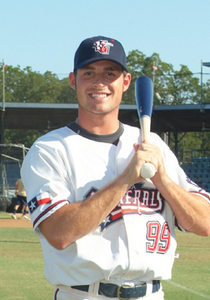 The Victoria Generals have announced the signing of David Baker, Michael Pair, and Abel Baker to their 2010 summer roster.
David Baker, the right-handed power hitter from the University of Houston-Victoria, becomes the first UHV player to ever sign with the Generals. Baker and the UHV Jaguars recently won their second straight A.I.I. Conference Tournament Championship and are currently playing in a regional in Fresno, California for a chance to advance to the NAIA World Series. Baker was named to the All-A.I.I. Conference First Team this season.
"David is a great young man and a solid baseball player," said Blake Koch, the GM of the Generals. "We're excited to have him represent our organization this summer."
Baker, a native of Houston, is the grandson of former Victoria Rosebud and Major League Baseball great Carl Warwick.
Following his college career at Texas Christian University, Warwick signed a professional baseball contract with the Los Angeles Dodgers in 1958 and made it to the majors in 1961. Warwick was a member of the 1964 World Champion St. Louis Cardinals.
David Baker is currently hitting .329 for the Jaguars this season with nine doubles, 13 home runs, and 41 RBIs while serving primarily as the Jaguars designated hitter. As a sophomore, Baker hit .347 with four doubles, four home runs, and 22 RBIs.
"David is about as strong as they come and can really hit for power," commented Koch. "He's a seasoned player that is mature beyond his years."
Michael Pair, a junior catcher and outfielder from the University of Central Arkansas, is set to return for his second summer season with the Generals.
The switch-hitting Pair currently holds a .300 batting average at UCA while leading the team in doubles with 17, in triples with two, in home runs with five, and in RBIs with 40.
Before attending UCA, Pair played two seasons at McLennan Community College in Waco under current General's head coach Chris Clemons. Pair hit .364 as a sophomore with eight doubles, three triples, three home runs, and 28 RBIs.
"Michael has great plate discipline and has all of the tools needed to play baseball at the next level," commented Koch. "He's another guy that adds a veteran presence to our locker room."
Also joining the Generals is freshman catcher Abel Baker from Baylor University. Baker, a native of Denton, Texas, hit .459 as a senior with five home runs and 22 RBIs.
Baker has seen limited action this season at Baylor, appearing in only 14 games. Baker is expected to step in as the starting catcher for the Bears next season after the departure of senior catcher Gregg Glime.
"Abel had several schools in the Big 12 Conference after him out of high school," Koch stated. "He has a bright future ahead of him at Baylor."
The Generals will play the Texas Tomcats at Riverside Stadium in Victoria on June 1 at 7:05pm to open the 2010 season. Gates will open at 5:30pm for a pregame concert by Texas country musician Clay Crockett. Season tickets can be purchased by calling 361-485-9522, visiting
www.VictoriaGenerals.com
, or at the team store located at 3708 N. Navarro Suite A in the Landmark Shopping Center.