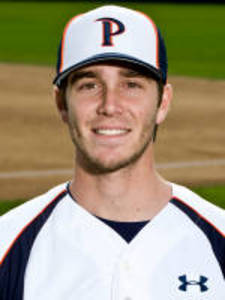 The Victoria Generals of the Texas Collegiate League have announced the signing of three new players that all have family ties to Major League Baseball. Kyle Arnsberg, Torrey Jacoby, and Trace Knoblauch will join the Generals 2010 summer roster.
"The signing of these three players is a big step in the right direction for our organization," commented Victoria's general manager, Blake Koch. "We want to continue to bring in the most talented players from around the country for our fans to watch play every summer."
Kyle Arnsberg, a native of Arlington, Texas, is currently taking a redshirt season at perennial powerhouse Arizona State University. ASU is always among the top teams in the nation, and this season is no different as they are currently ranked #2 in most polls behind the University of Texas. Arnsberg was drafted in the 45th round of the 2009 MLB Draft by the Boston Red Sox. The 6'5", left-handed hitting Arnsberg will see action this summer for the Generals as a catcher and a first baseman.
Kyle is the son of current Houston Astros pitching coach, Brad Arnsberg. Brad pitched six seasons in the major leagues for the New York Yankees (1986-87), Texas Rangers (1989-91), and Cleveland Indians (1992). Before he began his current job with the Astros, Brad was the pitching coach for the Montreal Expos from 2000-03 and for the Toronto Blue Jays from 2005-09.
"Kyle will have the ability to come in this summer and get a lot of playing time to get him ready to step into a full time role next year at ASU," Koch stated.
Also joining the Generals this summer is Torrey Jacoby of Pepperdine University. Jacoby, a junior infielder, is currently hitting .281 for the Waves with six doubles and one home run. Out of high school, Jacoby was selected in the 40th round of the 2007 MLB Draft by the Arizona Diamondbacks.
Torrey is the son of current Cincinnati Reds hitting coach, Brook Jacoby. Brook played 11 seasons in the major leagues from 1981-92 for the Atlanta Braves, Cleveland Indians, and Oakland Athletics. Brook played in the All-Star Game in 1986 and 1990 while with the Indians.
"Torrey is another one of those players that has been around the game his entire life and brings a great deal of experience to our club," said Koch. "We expect him to be a team leader and help fill multiple roles as a utility player for us."
Joining Arnsberg and Jacoby this summer on the General's roster will be freshman Trace Knoblauch from Indiana University. The 6'4", switch-hitting first baseman is a native of Bellaire, Texas where he was a First-Team All-State 5A performer at Bellaire High School in 2009. Knoblauch hit .433 his senior year with six homeruns, nine doubles, 36 RBIs, and 39 runs scored. Knoblauch has seen limited time at Indiana this season, only appearing in 16 games.
The Knoblauch last name is well known, not only in Texas, but across the baseball nation. Trace's uncle, Chuck Knoblauch, played 12 seasons in the major leagues for the Minnesota Twins (1991-97), New York Yankees (1998-2001), and Kansas City Royals (2002). He was a four time all-star (1992, 1994, 1996, and 1997), a four-time World Series Champion (1991, 1998, 1999, and 2000), a two time Silver Slugger Award winner (1995 and 1997), a Gold Glove Award winner (1997), and the AL Rookie of the Year in 1991.
"Trace had an impressive high school career and is currently playing behind an All-American candidate at Indiana," commented Koch. "Trace is a quality young man and has a bright future ahead of him at Indiana."
The Victoria Generals will open the 2010 season on June 1 at Riverside Stadium against the Texas Tomcats at 7:05pm. Gates will open at 5:30pm for a pregame concert and an autograph signing session by the Generals players.
There will also be a pregame ceremony honoring last year's TCL award winners, Coach of the Year Chris Clemons and Player of the Year Mark Hudson. Magnet schedules will be given away to the first 1,000 fans in attendance.
For more information about the Victoria Generals 2010 season, visit
www.VictoriaGenerals.com
. Season tickets and team merchandise can be purchased at the team store located at 3708 N. Navarro Suite A in the Landmark Shopping Center, online, or by calling 361-485-9522.