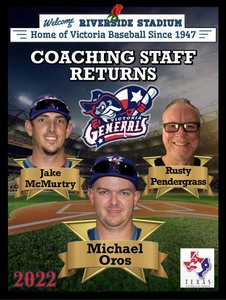 December 13, 2021 – The Victoria Generals announced today that head coach Michael Oros will return for his eight season as the Generals take the field for the 2022 season. Also returning to help lead the Generals are assistant coaches Jake McMurtry and Rusty Pendergrass. This will be the Generals 14th season in the Texas Collegiate League as the Generals look to chase another Texas Collegiate League Championship.
"We are excited to have Michael and his coaching staff return once again in 2022 and we have started laying the ground work for a great and exciting 2022 campaign," commented Mike Yokum, Generals Vice President and General Manager. "Michael and his staff continue to build a strong presence within the Victoria community outside of just coaching the Generals with community involvement and impactful Summer camps for local youth in the area."
Oros, as a player, joined the Generals in the Summer of 2009 out of San Jacinto Junior College where he saw limited action as a freshman. The Generals allowed Oros to develop that first summer with 30 innings of work, compiling a 3-0 record, 1.53 ERA allowing only 5 earned runs with 26 strikeouts. His second season with the Generals, Oros was moved to a starter making 8 starts, tossed 53.1 innings, 2.19 ERA allowing 15 runs, a team leading 49 strikeouts while compiling a 4-1 record. Oros transferred to Sam Houston State University his junior season where he tossed 40.2 innings in relief. His final season as a General, Oros made 12 starts, 69.1 innings pitched with 48 strikeouts while compiling a 3-3 record. Oros is the Generals franchise record holder in wins (10), starts (24), innings pitched (152.0) and strikeouts (123). Oros finished up his collegiate career at Sam Houston as their number one pitcher compiling an 8-1 record with a 2.52 ERA in 78.2 innings of work his senior season.
Oros would go on to play professional baseball for two seasons with the White Sands Pupfish of the Pecos League and the Florence Freedom of the Frontier League. Oros was the Freedom team leader in innings pitched with 87 innings as well as strikeouts with 80. Oros led the Frontier League in ERA with a 2.16 ERA while also being selected as a Frontier League All-Star. This will be Oros' 8th season as head coach and his 12th season with the Generals organization. Oros has compiled a career coaching record of 188-148-1 and is the all-time leader in career coaching wins in Texas Collegiate League history.
Jake McMurtry will be returning as an assistant coach once again for the Generals. This will be McMurtry's fifth season with the coaching staff under Oros' leadership. McMurtry was one of the original members of the inaugural 2009 season alongside Oros that managed the best record in the TCL. After pitching as a redshirt freshman for Sam Houston in 2010, McMurtry would suffer an arm injury that would keep him out of the 2011 season. McMurtry would once again suit up for the Generals in the 2012 season making 10 appearances out of the bullpen as a relief pitcher.
Rusty Pendergrass will head into his second season with the coaching staff in 2022. Pendergrass brings a wealth of baseball experience and knowledge of the game of baseball to the Generals coaching staff. Pendergrass was the head baseball coach for Houston Baptist University for five seasons (1992-1997) before becoming a Major League Baseball scout for the Houston Astros (2000-2011) and later with the Arizona Diamondbacks (2011-2020). After retiring from scouting in 2020, Pendergrass wanted to stay connected with the game of baseball and joined the Generals for the 2021 season.
The Victoria Generals will play 48 games in 2022 with 24 of the games being played here in Victoria at Riverside Stadium. Special Buy One/Get One Free Season ticket packages are available for a limited time at the Victoria Generals Team Shop located at 1301 E. Airline in the Town and Country Shopping Center. New 2022 Generals gear is also available at the Generals Team Shop. The 2022 schedule will be announced soon and will be available on the Generals website at www.victoriagenerals.com. Follow the Generals on Facebook and Twitter for further updates on the upcoming season.