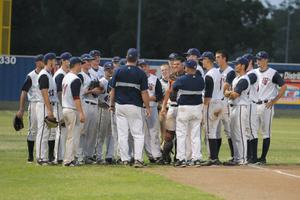 In the final two games of the TCL regular season, the Victoria Generals swept a double header from the Woodlands Strykers on Saturday night winning game one 6-3 and game two 3-2.
Bryce Zak pitched a complete game in game one to pick up his fourth win of the season. Zak allowed just six hits and struck out a season-high seven batters.
The Generals got on the board in the bottom of the first as Chad Kruse scored on a sacrifice fly by Patrick Duncan. Ryan Guedry made it 2-0 as he scored on an errant pick off attempt by the Strykers pitcher.
The Strykers answered with three runs in the second to take a 3-2 lead. But the Generals responded two runs in the fourth and two in the fifth.
In the fourth, Kruse delivered a two-run single to plate Trent Wagner and Blue Hybner who had both been hit by pitches to start the inning. In the fifth, Hybner singled home Corti Wilson before Brandon Tierney hit an RBI single to score Wagner and make it 6-3.
In game two, Alex Klonowski got the start and turned in another stellar outing. Klonowski pitched six innings, allowing just two runs on five hits with two strikeouts.
The game remained scoreless until the bottom of the fourth inning as Chad Kruse scored on a perfectly executed double steal with runners on first and third. Patrick Duncan would make it 2-0 as he scored on a Stryker's error.
The Generals made it 3-0 on an RBI single by Carter Mangum to score Corti Wilson in the fifth.
The Strykers attempted a comeback as they scored two runs in the sixth inning. Daniel Tunchez then pitched a scoreless seventh inning for the Generals to nail down the win and notch the save.
With the two wins, the Generals finish the regular season with a record of 36-22, good enough for third place in the overall TCL standings and just two games out of first place. The Generals finished in second place in the second-half TCL standings, repeating their finish from the first-half of the season.
The Generals will open the TCL playoffs at home on Sunday night against the Brazos Valley Bombers at 7:05pm in a one-game, winner-take-all match-up. The winning team will advance to the TCL Championship Series against the winner of the East Texas Pump Jacks and the Alexandria Aces.
Game 1 Box Score: http://tcl-generals.bbstats.pointstreak.com/boxscore.html?gameid=91402
Game 2 Box Score: http://tcl-generals.bbstats.pointstreak.com/boxscore.html?gameid=109756

Article: http://www.advosports.com/news/2012/aug/11/aa_knoblauch_081112_184337/

Article: http://www.advosports.com/news/2012/aug/12/wb_generals_baseball_0812_185002/