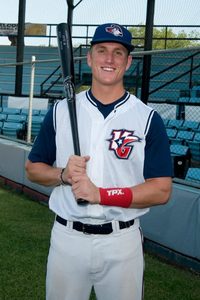 The Victoria Generals five-game road trip continued on Thursday night in Alexandria, Louisiana where they defeated the Alexandria Aces 9-5 behind a big offensive night from catcher Eric Weiss. Weiss went 5-for-5 in the ballgame with a two-run home run, two triples, two singles, four RBIs, and three runs scored.
The Generals got on the board in the top of the first inning on an RBI ground out by Jude Vidrine to score Brandon Tierney who was hit by a pitch to lead off the game.
The Generals made it 2-0 in the second as Weiss hit the first of his two triples in the game to get the inning started and was driven home on an RBI single by Kyle Chaskin.
The Aces answered in the bottom half of the second inning as they were able to score four runs off of Generals starting pitcher Bryce Zak.
With two outs in the top of the third, Vidrine reached base on a walk, stole second base, moved to third on a walk, and came around to score on an RBI single by Patrick Duncan. Eric Weiss then stepped in and uncorked his third home run of the season.
The Aces got a run back in the bottom of the fourth to tie the game up at 5-5.
The Generals got the lead back in the top of the fifth as Weiss drilled his second triple of the game to score Vidrine who had walked.
The Generals stretched their lead to 9-5 with three runs in the seventh inning. Weiss got the scoring started with an RBI single to score Kruse. Duncan would score on a sacrifice fly off of the bat of Chaskin which the centerfielder misplayed for an error. Weiss would then come around to score on a wild pitch.
Daniel Tunchez picked up the win for the Generals, his third of the season. Tunchez came into the game to start the fifth inning and worked into the ninth. He allowed just two hits in 4.1 innings of work with three strikeouts.

Tanner Green earned the save as he was able to induce a game-ending double play with the bases loaded to record the final two outs in the game.
With the win, the Generals improved to 28-22 on the season and the Aces fell to 22-29.
The Generals will continue on their road trip to Bryan to take on the Brazos Valley Bombers on Friday and Saturday nights in a two-game series.
Box Score: http://tcl-generals.bbstats.pointstreak.com/boxscore.html?gameid=91373