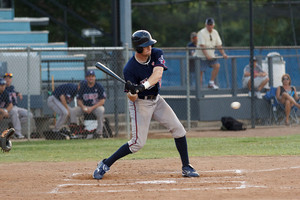 The Victoria Generals tried to make a valiant comeback in the bottom of the ninth inning on Monday night against the Brazos Valley Bombers, but fell just short, losing the game 3-1.
The Generals trailed 3-0 headed into the bottom half of the ninth. The Generals loaded the bases with one out. Billy Richard struck out swinging for the second out. Chad Kruse then hit a slow roller to the third baseman and legged out an infield single to make the score 1-0. But that would be all the Generals could muster, as Jude Vidrine grounded into a fielder's choice to end the game.
The Generals left 11 men on base during the game.
The Bombers scored one in the third and two in the fifth off of starting pitcher Alex Klonowski. Klonowski went 4.2 innings, allowing the three runs on five hits with one strikeout.
Dillon Newman made his first appearance on the season for the Generals, tossing 3.1 hitless innings while striking out four.
The Generals managed just five hits in the game, two from leadoff man Richard.
The Generals fell to 12-8 on the season as the Bombers improved to 14-6.
The two teams will meet again on Tuesday night, this time in Bryan at 7:05pm.
Box Score: http://tcl-generals.bbstats.pointstreak.com/boxscore.html?gameid=91266

Article: http://www.advosports.com/news/2012/jun/26/mf_generals_062612_180582/