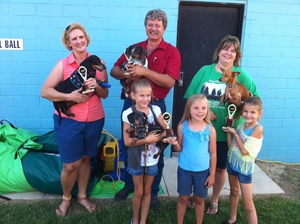 The Victoria Generals completed a two-game home series sweep of the Alexandria Aces on Saturday night with a 7-2 win. Recently named TCL Pitcher of the Week for week one of the season, Jordan Pacheco, cruised to his league-leading third victory of the season. Pacheco pitched six innings and allowed just one run on five hits while striking out six batters. Through his first 21 innings of the season, Pacheco has allowed just two earned runs and is second in the league with a 0.86 ERA, only behind teammate Covey Morrow.
The Generals fell behind early on Saturday night, allowing a single run in the first inning on a wild pitch, but it didn't take long for the General's bats to get rolling in support of Pacheco. Blue Hybner launched his first homerun of the season, a three-run shot to left field in the bottom of the sixth inning. After a walk to Carter Mangum, Billy Richard followed with a two-run blast of his own, also to left field. It was Richard's second home run of the season.
Pacheco settled in and did not allow a run through his next five innings of work after the first. The Generals tacked on two more runs in the fourth inning to make the score 7-1. Chad Kruse and Jude Vidrine hit back-to-back singles to drive in Hybner and Kevin Daniels.
Kyle Chaskin came on in relief of Pacheco for his first outing of the summer. Chaskin allowed one run in two innings with one strikeout. Jake McMurtry pitched a scoreless ninth inning to complete the game.
Daniels and Kruse each had two hits apiece for the Generals on the night.
The Generals improved to 8-4 on the season as the Aces fell to 3-10.
The Generals will host the Brazos Valley Bombers on Sunday night. Sunday is the Generals annual Dad's Day at the Park event in honor of Father's Day. All men 18 and older are encouraged to get to the park early to register for the chance to win lots of great prizes throughout the night. Gates open at 6:00 and game time is 7:05pm.
Box Score: http://tcl-generals.bbstats.pointstreak.com/boxscore.html?gameid=91239

Video: http://crossroadstoday.com/Generals-get-the-win-against-the-Aces-/13465371

Article: http://www.advosports.com/news/2012/jun/16/aa_generals_baseball_0617_179696/

Article: http://www.advosports.com/news/2012/jun/16/aa_madridfeature_061712_179621/