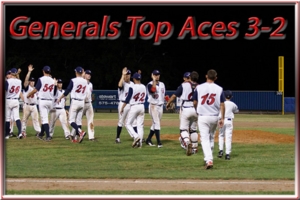 The Victoria Generals defended their home field on Friday night with a 3-2 victory over the Alexandria Aces. The Generals improved to 7-4 on the season as the Aces fell to 3-9.
The Generals jumped out to an early 1-0 lead in the bottom of the first inning. With two outs, Rudy Flores and Eric Weiss each walked. Jude Vidrine hit a single to load the bases before Patrick Duncan drew a walk to plate the first run of the game.
The Aces tied the game at 1-1 on an RBI double by Nathan Hale in the third.
In the fourth inning, the Generals retook the lead on an RBI groundout by Rudy Flores.
The Aces answered back with a run in the fifth on an RBI single by Lucas Quary to chase Generals starting pitcher Bryce Zak from the game. Zak went 4.1 innings and allowed 2 runs on four hits with two strikeouts and six walks.
Dallas Ponder came in to pitch and shut the Aces offense down the rest of the game. Ponder held the Aces scoreless the rest of the way through the final 4.2 innings. He allowed just one hit and struck out 10 batters without allowing a single walk.
The Generals scored the go-ahead and winning run in the bottom half of the fifth inning. Trent Wagner reached third base on a dropped fly ball by Hale, the Aces centerfielder. Wagner would come around to score on sacrifice fly to left field off of the bat of Trace Knoblauch.
The Generals and Aces will play game two of the series on Saturday night at 7:05pm at Riverside Stadium in Victoria.
Saturday night is the Generals annual Hot Diggity Dog Night presented by the Dorothy H. O'Connor Pet Adoption Center. The third annual Weenie Dog Races will begin at 6:00. Registration begins at 5:00. Visit www.VictoriaGenerals.com for more information.
Box Score: http://tcl-generals.bbstats.pointstreak.com/boxscore.html?gameid=91236

Video: http://crossroadstoday.com/Knoblauch-s-Third-General-Run/13448524

Video: http://crossroadstoday.com/Generals-Win-Second-Straight/13461074

Article: http://www.advosports.com/news/2012/jun/15/mf_generals_baseball_0616_179645/