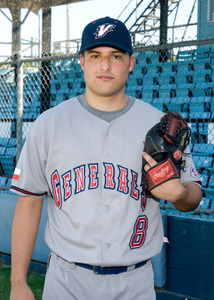 Victoria native and former Victoria General's pitcher Roman Madrid was selected by the San Diego Padres in the 7th round of the 2012 Major League Baseball Draft on Tuesday afternoon. The junior pitcher from the University of Central Florida was the 225th overall pick.
Madrid became the 12th alum of the Generals to be selected in the team's four year history.
"Our whole organization is really excited for Roman and his family," commented Blake Koch, general manager of the Generals. "Roman is a great kid and we're looking forward to getting to follow his professional career."
Madrid helped lead the Generals to the TCL Championship in 2010. Madrid posted a 4-1 record that summer with a 1.88 ERA and 3 saves. He struck out 32 hitters in 28.2 innings.
Madrid pitched in seven games for the Generals in 2011 as well.
As a junior at UCF, Madrid dominated Conference USA, appearing in 32 games and striking out 46 batters in 45 innings. He posted a 5-2 record with a 1.00 ERA by only allowing five earned runs on the season. He held opposing hitters to just a .218 batting average.
"When Roman first put on a Generals uniform, we knew he had the talent to get to this point. Roman really benefited from working with our head coach Chris Clemons that first summer," stated Koch.
In 2009, Madrid was drafted out of Memorial High School in Victoria in the 44th round by the Cleveland Indians as a catcher. He opted not to sign and began his collegiate career at Texas A&MUniversity – Corpus Christi before transferring to McLennan Community College to play for Clemons as a sophomore.
There is still a chance that Madrid might join the Generals at some point this summer. The signing deadline for drafted players is July 13. Since Madrid was only a junior this season at UCF, he still meets the eligibility requirements to play in the Texas Collegiate League.
"Roman knows that the door is always open for him to come pitch for us if he needs to get some innings in to stay sharp up until the point that he decides to sign."
The Generals are currently 3-2 this season under the leadership of third-year head coach Chris Clemons.

Article from the Victoria Advocate: http://www.advosports.com/news/2012/jun/05/aa_madrid_060612_178620/