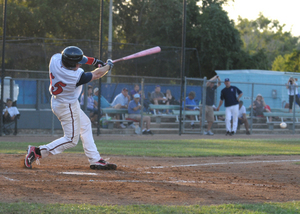 By Jeremy Shapiro


A historic evening for Generals third baseman Chad Kruse was not enough as Victoria dropped its first game of the year 6-4 to Brazos Valley Monday at Riverside Stadium.

Kruse became the Generals all-time hit leader with a third-inning double. He later knocked in the tying run in the seventh. However, a bases loaded single by Braden Mattson in the eighth gave the Bombers a lead they wouldn't relinquish.

Brazos Valley improved to 2-1 on the season. Victoria is now 3-1.

Kruse, a University of Houston-Victoria senior next school year, came into the game with 83 hits. He surpassed former hits record holder Mark Hudson, a Victoria native and a former TCL Player of the Year.

"It was exciting because there have been a lot of great hitters that have came through here," Kruse said. "To have more than the other guys, even though they were probably better hitters, is a good record to have."

The 84th hit was an easy double to lead off the third. Kruse scored after a sacrifice fly and balk. The Generals added another run when Jude Vidrine ran home on a wild pitch by Bombers starter Brannon Easterling to give Victoria a 3-0 lead.

Generals starter Jordan Harrison worked around a leadoff double in the top of the third by No. 7 hitter Myles Parma. Harrison got two strikeouts and a weak grounder to get out of the inning. The lefthander from University of Louisiana-Lafayette, was sharp through six innings, giving up just one run on two hits.

Corey Holmes took the mound in the seventh for the Generals and allowed three runs, including a two-run homer by Parma to give the Bombers its first lead of the game at 4-3.

In the bottom of the seventh, catcher Blue Hybner doubled and Victoria native Kevin Daniels followed with a single. Kruse tied the game up with a sacrifice fly, scoring Hybner. Daniels stole second and after a Vidrine walk, Trent Wagner smacked a single to right. Daniels made the turn at third to come home, but was held up. He scampered back to the bag safely, but was stranded there when Rudy Flores grounded out.

With Tanner Green on the hill, Brazos Valley loaded the bases on two walks and a single in the eighth, setting up the go-ahead hit by Mattson.

"It's a 60 game season, you are not going to win them all," Kruse said. "There will be nights when an error or walk will be costly. That's just how it happens. But it's a long season and we have a really good club. We will be all right."

The same two teams will square off Tuesday at Riverside Stadium. First pitch is set for 7:00pm.

Tuesday night is Fastop Ozarka Free Ticket Night. Fans can stop by any of the six Fastop locations in Victoria and purchase an Ozarka product to receive a free ticket to Tuesday night's game.

Box Score: http://tcl-generals.bbstats.pointstreak.com/boxscore.html?gameid=91203

Videos from Crossroads Today: http://crossroadstoday.com/Best-Start-Yet-for-Generals/13324363

http://crossroadstoday.com/Generals-Offense/13324561

Victoria Advocate Article: http://www.advosports.com/news/2012/jun/05/wb_generals_060512_178546/