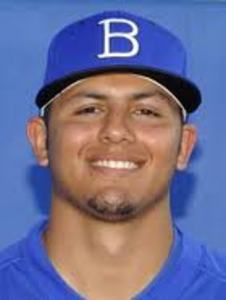 Opening day of the 2012 summer season is just days away for the Victoria Generals. The team has finalized its opening day roster with the addition of three local products. Victoria natives Kevin Daniels and Hayden Vesely will join Shiner native Blue Hybner to give the Generals some much needed depth across the board this summer.
"We're very fortunate to have such a hotbed of baseball talent right here in our backyard to choose from," commented Blake Koch, Victoria's general manager. "Kevin, Hayden, and Blue are quality players from the area that will fit in well with the pieces we already have in place."
Kevin Daniels, a 2010 graduate of St. Joseph High School, just completed his sophomore year at Blinn College. Daniels put together a solid sophomore campaign, batting .336 with six doubles, one triple, 20 RBIs, 16 stolen bases, and 24 runs scored. For his efforts, Daniels was named to the Region XIV South All-Conference team.
As a freshman, Daniels hit .275 with three doubles, one triple, 28 RBIs, 14 stolen bases, and 28 runs scored. He also was named to the Region XIV South All-Conference team as a freshman as well.
In 2011, Daniels was selected to play in the Texas/New Mexico Junior College All-Star Game played at Baylor Ballpark in Waco.
Daniels is currently undecided on which university he will be transferring to in the fall to continue his collegiate career.
"Kevin is a solid defensive outfielder that handles the bat well," stated Koch. "He works hard and plays the game the right way."
Hayden Vesely, a 2011 graduate of St. Joseph High School, followed in the footsteps of his high school teammate Daniels and chose to attend Blinn as well. Vesely hit .267 as a freshman this year with six doubles, one home run, 19 RBIs, five stolen bases, and 34 runs scored.
Vesely showed his versatility defensively by playing multiple positions, seeing time at second and third base as well as in the outfield.
As a senior at St. Joseph, Vesely compiled a 10-2 record on the mound with a 1.97 ERA. He had 74 strikeouts in 71 innings pitched. He also led the team at the plate with a .456 batting average and 23 RBIs. For his efforts, Vesely was named to the Advocate All-Area Baseball First-Team, the TAPPS District 4-5A First-Team, and the TAPPS All-State First-Team.
"Hayden is really talented athlete," stated Koch. "He's the type of guy you feel comfortable sliding around all over the diamond, even during the middle of a game."
Blue Hybner, a 2011 graduate of St. Paul High School, recently completed his freshman year at Hill College. Hybner hit .231 on the year in limited action with one double, one home run, five RBIs, and three runs scored. Hybner transferred to Hill after spending the fall semester at Texas State University.
At St. Paul, Hybner helped lead the Cardinals to the TAPPS 1A/2A State Championship three different times. The Cardinals won state titles in 2008, 2009, and 2011.
"Blue will give us some depth behind the plate after losing one of the other catchers that we had signed earlier this year due to an injury," said Koch. "He's a big, physical kid that has shown signs of being able to hit for power."
The team is set to report to camp on Wednesday, June 30. They will have their first and only team practice on Thursday, May 31 before hitting the road to open the season in The Woodlands against the Woodlands Strykers on Friday, June 1. The Generals will then travel to Lafayette, Louisiana for one game against the Acadiana Cane Cutters on Saturday, June 2 before returning home to Victoria for the home opener.
The Generals home opener is on Sunday, June 3 at 7:05pm at Riverside Stadium against the Acadiana Cane Cutters. Magnet schedules will be given away to the first 1,000 fans in attendance courtesy of Mr. Payroll Cash Checking.
Season tickets for all 30 of the Generals home games this season are on sale now. Fans can buy season tickets and team merchandise at the Generals team store located at 3708 North Navarro, Suite A in the Landmark Shopping Center, online at www.VictoriaGenerals.com, or by calling 361-485-9522.