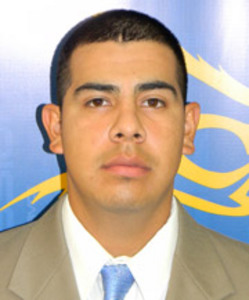 The Victoria Generals have added Victoria native Jeremy Flores to the pitching staff for the 2012 Texas Collegiate League season which begins on June 1.
Flores is currently finishing his junior year at Texas A&M University – Kingsville where he is 1-0 on the season with a 3.32 ERA. The left-hander has made a team-leading 18 appearances with 15 strikeouts in 19 innings to go along with two saves.
"Jeremy has really matured over the course of the last two years in Kingsville," stated Blake Koch, Victoria's general manager. "He has a great presence on the mound and pitches with a lot of confidence."
Flores started the 2011 season as the closer at Kingsville where he made 13 relief appearances while only allowing one run. Flores was then moved into the starting rotation where he made five starts. For the season, Flores posted a 3.79 ERA with seven saves and 39 strikeouts in 35.2 innings.
The Generals were interested in signing Flores last summer, but an arm injury at the end of the 2011 season kept Flores off the team's roster.
"Now that Jeremy is one-hundred percent healthy we feel that he can have a big summer for us as a part of our pitching staff," Koch commented. "He's a great addition to our bullpen."
Flores attended Memorial High School where he earned first-team all-district and all-area honors as a senior. He helped lead MHS to the 2007 District 27-5A championship.
The Generals home opener is on Sunday, June 3 at 7:05pm at Riverside Stadium against the Acadiana Cane Cutters. Season tickets for all 30 of the Generals home games this season are on sale now. Fans can buy season tickets and team merchandise at the Generals team store located at 3708 North Navarro, Suite A in the Landmark Shopping Center, online at www.VictoriaGenerals.com, or by calling 361-485-9522.