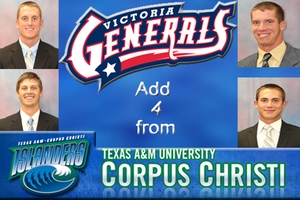 For the past three seasons the Victoria Generals have had at least one player on the roster from Texas A&M University – Corpus Christi. In 2009, there was Chris Pena. In 2010, Roman Madrid and Jeramie Marek helped the Generals win the Texas Collegiate League championship. Last summer, in 2011, the Generals had Alex Jack, Phillip Garcia, and Santiago Ruiz.
This year is no different as the Generals have added four new Islanders to the 2012 roster. Outfielder Eric Weiss and right-handed pitchers Tanner Green, Bryce Zak, and Tyler Schnuriger will become the newest members of the pipeline running from Corpus Christi to Victoria.
"We're very fortunate to have a great relationship with the coaching staff in Corpus Christi," commented Blake Koch, the general manager for the Generals. "They have always sent us some of their top players every season, and this year is no different."
Eric Weiss, a junior transfer from Tyler Junior College, is already off to a hot start for the Islanders in 2012. Weiss is currently batting .277 while leading the team in hits (23), doubles (6), RBIs (13), and walks (12). Weiss has also added one triple, 14 runs scored, and three stolen bases.
As a sophomore at TJC, Weiss was named an NJCAA All-American after hitting .402 on the year with nine doubles, 24 RBIs, 27 runs scored, and 16 stolen bases.
As a freshman, Weiss hit .399 with 16 doubles, three triples, one home run, 49 RBIs, 67 runs scored, and 19 stolen bases.
Weiss is from Houston where he attended Cypress Creek High School.
"Eric is a versatile player that can play all three outfield spots and also catch a little bit if needed," stated Koch. "He's an experienced player that is poised to have a big summer for us."
Tanner Green, a sophomore from Georgetown, Texas, is off to a good start as well for the Islanders this season. Green is 1-0 in nine appearances. Green has struck out six batters in 10 innings of work.
As a freshman, Green appeared in 24 games out of the bullpen. He posted a 2-1 record with a 5.40 ERA.
"Tanner is a submarine style thrower that can come in and give hitters a different look at the plate," said Koch. "He's a great guy to have on a summer ball roster because he won't have a problem throwing in back-to-back games."
Bryce Zak, a redshirt freshman from San Angelo, Texas, had a great summer in the New York Collegiate League in 2011 for the Hornell Dodgers. Zak went 3-1 with a 3.33 ERA in 10 starts while compiling 54 strikeouts in 51.1 innings.
Zak, a 6'3", 210 pound right-hander, has appeared in four games this season for the Islanders. He has only allowed one run while striking out three batters.
"Bryce had a great summer up in New York last year," commented Koch. "We're hoping that he can duplicate that kind of success on the mound in a Generals uniform this summer."
The final Islander added to the Generals 2012 summer roster is Tyler Schnuriger. The San Antonio native is currently recovering from a back injury that has kept him out of action this spring. Schnuriger had a great high school career at MacArthur High School.
"Tyler has been dealing with some injury problems, but should come in rested and ready to go this summer," Koch stated. "He's got an electric arm and has the chance to be one our starters in the rotation."
The Generals home opener is on Sunday, June 3 at 7:05pm at Riverside Stadium against the Acadiana Cane Cutters. Season tickets for all 30 of the Generals home games this season are on sale now. Fans can buy season tickets and team merchandise at the Generals team store located at 3708 North Navarro, Suite A in the Landmark Shopping Center, online at www.VictoriaGenerals.com, or by calling 361-485-9522.