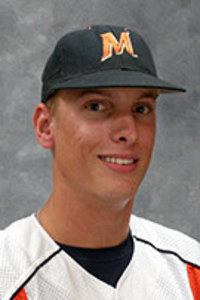 The Victoria Generals have announced the addition of four new pitchers to their 2010 roster. Kolt Browder, Lee Colon, John Gilligan, and Ryan Turner will all take the mound this summer for the Generals.
Kolt Browder, a freshman right-hander from Coldsprings, Texas, has been one the top relief pitchers for Baylor University this season. Browder has seen action in 19 games for the Bears, earning a 4-2 record with a 4.62 ERA. Browder has recorded 34 strike outs on the season in 25.1 innings of relief. Browder is expected to serve in the same capacity for the Generals this summer.
Lee Colon, a junior left-handed pitcher at Texas State University, will join the Generals starting rotation this season. This year at TSU, Colon has posted a record of 4-3 with a 6.21 ERA. He has recorded 49 strike outs in 58 innings pitched. Colon transferred to Texas State after playing one season at Temple College where he went 11-0 on the mound with a 1.50 ERA earning All-American honors.
John Gilligan, a 6'5" right-handed pitcher, just completed his sophomore season at Alvin Community College. Gilligan pitched in 28.2 innings this season for the Dolphins, going 2-1 with a 4.08 ERA while striking out 24 batters. The submarine-style pitching Gilligan has signed to play at Lamar University next season for his uncle and legendary collegiate coach Jim Gilligan.
Ryan Turner, a native of Richland, Texas, just completed his sophomore season at McLennan Community College in Waco where he served as the top relief pitcher for the Highlanders. Out of high school, Turner was drafted in the 22nd round of the 2007 Major League Baseball Draft by the Tampa Bay Devil Rays. After playing one season at Midland College, Turner was drafted once again by Tampa Bay in the 30th round of the 2008 MLB draft. Turner sat out the following season at McLennan after having season ending shoulder surgery.
The Generals begin their 2010 campaign in the Texas Collegiate League on Tuesday, June 1 against the Texas Tomcats at Riverside Stadium. There will be a pregame concert beginning at 5:45pm featuring Clay Crocket. Game time is 7:05pm. To purchase season tickets or tickets for opening night, stop by the team store located at 3708 N. Navarro Suite A in the Landmark Shopping Center, or visit www.VictoriaGenerals.com.