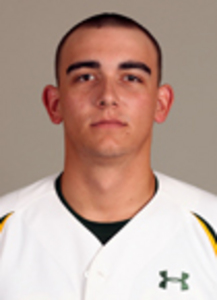 Right-handed pitchers Blake Payne and Tom Filip have signed contracts to return to Victoria for their second summer collegiate baseball season with the Victoria Generals. Payne and Filip were both key contributors last season that helped lead the Generals to a 32-16 record as they won the Texas Collegiate League Regular Season Championship.
"Blake and Tom pitched in a lot of big games for us last summer and were a big part of our team's success," commented Blake Koch, the general manager of the Victoria Generals. "We're excited to have two more veterans back on our pitching staff this summer."
Blake Payne, a native of Victoria and former Memorial High standout, was one of the most dominant pitchers in the Texas Collegiate League last summer, posting an unblemished record of 6-0 with a 2.44 ERA. His six wins were the most of any pitcher in the TCL last season. Payne only gave up 12 earned runs on the year in 44.1 innings of work while recording 27 strikeouts.
Payne recently finished his sophomore season at Seminole State College, a junior college in Oklahoma. Payne currently has several division one schools that have offered him scholarships for next season and will make his selection on where to continue his collegiate career soon.
"Whichever school Blake ends up signing with will be lucky to have him next year," stated Koch. "Blake has great command of all his pitches and can throw them all for strikes in any count."
Tom Filip, a junior from Baylor University, served as the Generals primary setup man for most of the season last year. The sidearm hurler pitched in 23.1 innings for the Generals in 2009, only giving up three earned runs while striking out 19 batters. His 1.16 ERA was the lowest of any pitcher in the TCL last season who threw over 20 innings.
"Tom was a reliable arm for us out of the bullpen last summer and we expect him to serve in the same capacity for us this season," commented Koch.
The Generals will open their sophomore campaign in the Texas Collegiate League on June 1 when they host the TCL's newest expansion team, the Texas Tomcats. Game time is slated for 7:05pm at Riverside Stadium in Victoria. A pregame concert by Clay Crockett will begin at 5:45pm. Fans can pick up their season tickets at the team store located at 3708 N. Navarro Suite A in the Landmark Shopping Center or online at www.VictoriaGenerals.com.