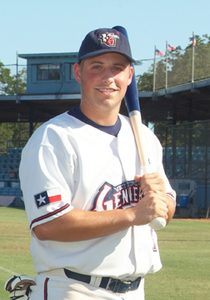 The Victoria Generals have announced that they have re-signed Andrew Russell and Brendan McGaheran for the 2010 summer season. Russell and McGaheran are currently playing for Lehigh University in Pennsylvania.
"Andy and Brendan were a big part of our success last summer here in Victoria," commented Blake Koch, Victoria's general manager. "They both appeared in just about every game for us last year and we're glad to have their veteran leadership back within our organization."
Andrew Russell, a junior outfielder from Doylestown, Pennsylvania, hit .261 for the Generals during their inaugural season with eight doubles, two home runs, 23 RBIs, and a team-leading 22 walks.
Russell is currently hitting .292 at Lehigh while leading the team in home runs with seven and in RBIs with 29. As a sophomore, Russell was named to the All-Patriot League First-Team as he posted a .604 slugging percentage and a .457 on base percentage, ranking fifth in the conference in both categories.
"Andy has one of the sweetest and smoothest left-handed swings that I've seen in the college game," commented Koch. "He's a patient hitter that has a great feel for the strike zone and can just flat out hit."
Brendan McGaheran, a sophomore middle infielder from Nazareth, Pennsylvania, will also rejoin the Generals this summer. McGaheran hit .255 for the Generals last season with seven doubles and 18 RBIs.
As a freshman in 2008 at Lehigh, McGaheran hit .287 with 12 doubles, three home runs, 26 RBIs, and a team-leading 15 stolen bases. McGaheran received a medical redshirt for the 2009 season after being injured in a car accident.
McGaheran is hitting .306 at Lehigh this season. He currently has 10 doubles, three home runs, and 23 RBIs.
"Brendan is the type of hitter that is best suited for the leadoff or two-hole spot in the lineup," Koch stated. "He has a knack for getting big hits in big situations."
The Victoria Generals will open the 2010 season on June 1 at Riverside Stadium in Victoria against the Texas Tomcats starting at 7:05pm. Fans can purchase season tickets and Generals merchandise at the team shop located at 3708 N. Navarro in the Landmark Shopping Center, online at
www.VictoriaGenerals.com
, or by calling 361-485-9522.