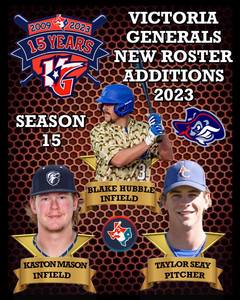 April 20, 2023 – With the 2023 Texas Collegiate League season a little more than a month away, the Victoria Generals announce the signing of three additional players as they continue to build their roster. Kaston Mason (UT-Tyler), Blake Hubble (Cisco) and Taylor Seay (Angelina) are the Generals latest roster additions as the Generals start the season on May 31st. The Generals will be chasing their third championship as they take the field at Riverside Stadium for their home opener on June 4th. This will be the Generals 15th season in the Texas Collegiate League.
"Both Kaston and Blake are playing every day and tearing the cover off the ball this season while Taylor continues to have quality outings on the mound," commented Mike Yokum, Generals Vice President and General Manager. "These guys will be well seasoned and ready to step in for the Generals next month as we get the season rolling."
Infielder Kaston Mason, a freshman from Rockwall, TX, is in his first season with UT-Tyler and is off to a great start appearing in 39 games this season, hitting .376 with 42 hits, 11 doubles, three triples, 11 home runs, 48 runs batted in, 41 runs scored, 31 walks and an on-base percentage of .513 on the season. Mason had an incredible game this past Sunday going 4 for 6 with a home run and three triples with seven RBI's on the day to lead the Patriots to an 11-7 victory over rival UT Permian Basin.
Infielder Blake Hubble, a sophomore from Knoxville, TN, is in his final season at Cisco Junior College. Hubble has had a great season appearing in 41 games, hitting .376 with 41 hits, 11 doubles, three triples, three home runs, 37 runs batted in, 28 runs scored, 18 walks and an on-base percentage of .457 on the season. After wrapping up this season, Hubble will be headed to Wichita State where he will suit up for the Shockers for his junior season.
Pitcher Taylor Seay, a freshman from Lake Jackson, TX, is in his first season at Angelina Junior College. Seay has had early success on the season appearing in 19 games in relief for Angelina compiling a record of 3-2 in 36 innings, striking out 35 while compiling a 1.50 Earned Run Average. Seay leads the team with the lowest ERA on the pitching staff through April 20th.
"These guys are team leaders for their respective teams and we are excited to have them," commented Michael Oros, Generals Head Coach heading into his ninth season. "We hope for that to continue this summer both on the field and in the clubhouse."
The Victoria Generals will play 48 games with 24 of the games being played here in Victoria at Riverside Stadium. The Generals will open their season on the road as they head to Baton Rouge to take on the Rougarou and will return for their home opener at Riverside Stadium on Sunday, June 4th. This opener will be a Free Ticket Night presented by Texas Roadhouse. Everyone will be admitted free thanks to Texas Roadhouse. The Generals schedule can be found on our website at www.victoriagenerals.com, along with the promotional calendar showing upcoming promotional nights.
Follow the Generals on Facebook and Twitter for further updates on the upcoming season. Fans can buy season tickets and merchandise at the team store located at 1307-H East Airline Road in the Town and Country Shopping Center. Many new items are being added weekly including the new 2023 Generals player edition hats.
The Generals are also currently looking for additional Host families for the Victoria Generals players. Plenty of great perks for hosting including VIP season ticket packages. If you are interested or need additional information, please call 361-485-9522.