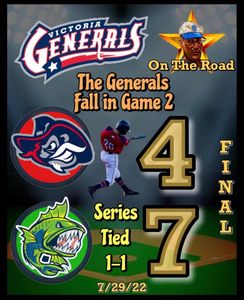 Generals Lose a Close One on the Road in Seguin
July 29, 2022- The Generals faced off against the Seguin River Monsters on the road in game two of a three game series. This was the Generals' last road game of the regular season as they will finish up the TCL regular season at home on Saturday.
The game started out slow as both teams were quiet offensively in the first inning. The Generals went down in order while the River Monsters collected a couple of hits but could not score any runs. While the second inning was much of the same for the Generals, the River Monsters' offense woke up, scoring four runs and taking an early lead.
The offensive struggles continued for the Generals in the third inning, as they went down in order for the third straight inning. However, starting pitcher Michael Barta bounced back in the bottom of the fourth, as he allowed no runs and struck out a batter. The fifth inning saw the Generals finally get on the board as Isiah Walker hit a double, setting up an RBI single off the bat of Chase Sanguinetti.
The Generals got another run across in the fifth inning thanks to an error committed by the River Monsters. Barta continued to pitch well, as he allowed no runs in the bottom of the fifth inning, keeping the score at 4-2 heading into the sixth.
The sixth inning was quiet offensively for both teams, as the Generals stranded runners on base while the River Monsters went down in order. The offense woke up in the seventh, as Sanguinetti hit a huge two RBI double that tied the ball game 4-4 heading into the bottom of the seventh. The River Monsters responded however, as they scored two runs giving themselves a 6-4 lead heading into the eighth.
The Generals were unable to cut into their deficit in the top of the eighth, as they were retired in order. The River Monsters brought home another run in the bottom of the inning, extending their lead to three runs heading into the final frame of the game. While the Generals were able to get a runner in scoring position, they were unable to score, resulting in a 7-4 defeat on the road.
The Generals will be back in action tomorrow night at 7:00 against the Seguin River Monsters at home. It will be host family appreciation night and group night for Trinity Episcopal School as they were the spirit contest winners. Come out and catch the last regular season home game at Riverside Stadium!